FUNDACION BRAZOS DE MISERICORDIA

Home | FOTOGRAFIAS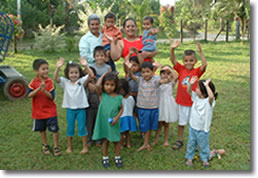 La fundación Social Brazos de Misericordia atiende a niños víctimas del conflicto armado del sur-occidente del país.

Se creó en el municipio de Puerto Asís, Putumayo, con el fin de brindarle educación, salud y alimentación a niños víctimas del Conflicto.

Ángel Pinto, fundador y actual director de la institución, señala que en el momento se atienden a 35 niños huérfanos. La atención es de forma gratuita y con preferencia a los pequeños afectados por el conflicto armado que azota a esta región del país.



Actualmente, la fundación se sostiene gracias a los aportes que realiza la comunidad Cristiana de Puerto Asís y así llevar adelante esta obra.



Por otra parte, la fundación es reconocida a nivel departamental y municipal por ser pionera en soluciones proactivas desde la región, sin auxilios del gobierno central, en otras palabras, es una solución positiva-nativa para los efectos del conflicto armado.



La fundación con motivo de su primer aniversario (jun-23) ha deseado crear su página web.

BIENVENIDOS!!!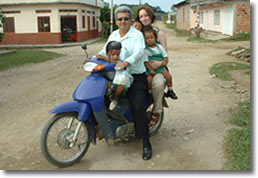 FOUNDATION MERCY ARMS

The Social Foundation Arms of Mercy takes care of young victims of the armed conflict in South-West Colombia

It was created in the city of Puerto Asis, Putumayo, with the purpose of offering education, health and food to young victims of the conflict.

Angel Pinto, founder and present director of the institution, indicates that at the moment they are taking care of 35 orphaned children. The care is free, with preference to the little ones affected by the armed conflict that ravages this region of the country.

Currently the Foundation is sustained thanks to the contributions by the Christian community of Puerto Asis. In this way they are moving this work forward.

The Foundation is also recognized on the state and city level as being a pioneering and proactive grassroots solution from the region, without aid from the central government. In other words, it is a positive-local based solution to address the effects of the armed conflict.

On the occasion of its first anniversary (June 23th), the Foundation has wished to create its page Web.


WELCOME!